Looking for Adventure?
Get ready for the trip of a lifetime with Yukon Wide Adventures!
Guided Day
& Multi-Day Tours
Yukon Wide Adventures popular summer tours give you an up-close experience of the nature and unique landscape of the Yukon. Our small group tours are led by passionate and experienced tour guides to ensure a safe and unforgettable experience in the untouched Yukon wilderness. 
Explore the breathtaking Yukon wilderness
with Yukon Wide Adventures
We help our guests experience the untouched nature and rich biodiversity of the Yukon. We offer unparalleled small group guided summer tours and winter tours.
In addition to welcoming guests from all over the world for our unique guided tours, we are also an outdoor travel outfitter, offering a wide selection of top of the line equipment and outdoor gear such as camping gear, canoes, kayaks, SUPs and river guides (we are the Western Canadian Prijon kayak dealer.) 
Planning your own Yukon wilderness adventure? Whether you want to travel by land or by water, our equipment rentals have you covered. 
We look forward to helping you experience your adventure of a lifetime in the unforgettable Yukon territory!
Gear Up at our Downtown Whitehorse Location
For all your outdoor adventure needs we offer a large selection of high-quality outdoor and camping gear. Come check out our conveniently located store at 102 Lambert Street, right across from the Visitor Information Centre.
A Taste of Yukon Wide Adventures
We provide year-round wilderness outdoor activities. Our services include the planning of individual tours, canoe, kayak, SUP, and
equipment rentals
transportation services
,
RV and camper rentals
, and even cozy accommodations in one of our log cabins.
Our thrilling winter tours include the opportunity to experience snowmobiling, dog sledding, snowshoeing, ice fishing and viewing of the magical  Aurora Borealis.
Yukon River Quest & Yukon 1000 – High Performance Boat Rentals. Get that edge needed to be a top finisher in the world-famous Yukon River Quest. Boat rentals include expert instruction and equipment pickup and return from Dawson City to Whitehorse. View our selection of Yukon River Quest boats. 
We also rent high-performance marathon boats for the Yukon 1000, learn more here. 
Team Yukon Wide places first in 2017, 2018 & 2019 Yukon River Quest!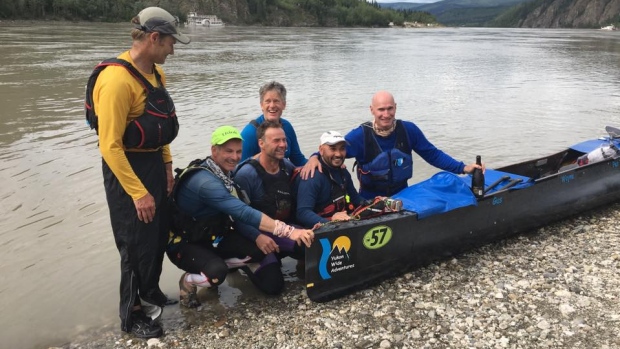 Film Crew
& Media Support
Yukon Wide Adventures has been working with film crews and photographers for years.
We're ready to support your project, get in touch with us to learn more!